7 decades of music history celebrated with the guitars that changed the world
Written by admin on November 24, 2018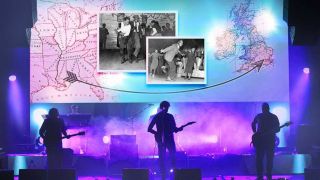 London's historic Victoria & Albert Museum, which has curated exhibitions of the work of David Bowie and Pink Floyd in recent years, is to host three live performances that celebrate the seven decade history of rock'n'roll.
The show, which will staged at the museum on January 11-13 next year, celebrates the three guitars that have been the backbone of rock music – the Fender Stratocaster, the Fender Telecaster, and the Gibson Les Paul – and the effect they've had on modern music and culture.
Each 90-minute performance will chart the evolution of rock'n'roll, from the 1950s to the present day, and include music from Jimi Hendrix, the Beatles, Led Zeppelin, Rage Against the Machine and many more, with video projections and documentary footage backing up a live band.
One of the show's producers is legendary manager Bill Curbishley (The Who, Judas Priest, Pages & Plant), who says, "It is a musical educational experience, which reminded me that without the electric guitar there would have been no rock'n'roll."
"We are delighted to be presenting this special version of Seven Decades at the V&A," says Geoffrey Marsh, Director of the Department of Theatre and Performance, V&A. "It chimes perfectly with our interest in exploring the boundaries between live performance, exhibition, lecture and film. This fascinating subject also overlaps with the V&A's world-class collections highlighting rock and pop, performance and design culture."
Tickets for the three shows are on sale now. The first show features a Q&A with Curbishley.
Source: Louder 
---
Reader's opinions
---